SpaceX has transported (half of) its Starship Mk1 prototype to its South Texas launch pad for the first time ever, signifying that the company is about to enter a major new stage of testing.
The move, however, raises the question: why is SpaceX transporting only half of Starship Mk1 to the launch pad?
Following SpaceX CEO Elon Musk's September 28th presentation on Starship, the spacecraft prototype was partially disassembled, having essentially been mocked up to stand as a backdrop at the event. The impact was fairly minor, taking up no more than a few days of work, but Starship Mk1 remains in two large, separate pieces – a curved nose section and the ship's cylindrical propellant tank and propulsion section.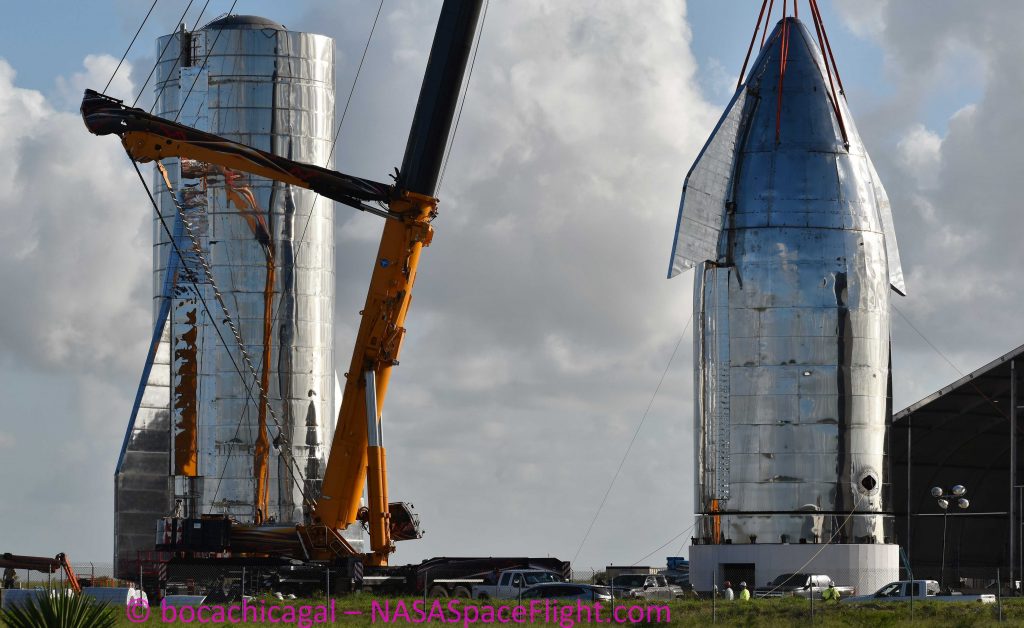 A little over a month after Musk's presentation, SpaceX technicians freed Starship Mk1's lower tank section from a steel mount and temporarily installed the giant half-spacecraft on framework mounted to a Roll Lift transporter. SpaceX has consistently relied on Roll Lifts for the task of transporting Starship's massive segments both around and between its Boca Chica, Texas build and launch facilities. This time around, only Starship Mk1's lower half was loaded onto the transporter before being staged overnight near the main gate of SpaceX's build site.
Although work continued throughout the night, around dawn on October 30th, transport activity restarted in earnest, with technicians preparing to move Starship. A road closure filed with Cameron County suggested that something would occur on the 30th, with followers speculating that Starship Mk1 would be transported to SpaceX's South Texas launch pad. As it turned out, that speculation was correct, and (half of) Starship Mk1 was indeed moved to the launch pad and installed atop a new launch mount that was built from scratch in just a few months.
(Half a) Starship on the pad
While it's undeniably thrilling to see Starship Mk1 head to SpaceX's Boca Chica launch pad for the first time ever, it remains to be seen why exactly only half of the rocket was transported – no mean feat. Although a great deal of progress has been made over the last month outfitting Starship Mk1 with all the wiring, electronics, plumbing, and other subsystems the prototype will need to function, it's plainly visible that a significant amount of work remains before Starship will be ready for integrated testing.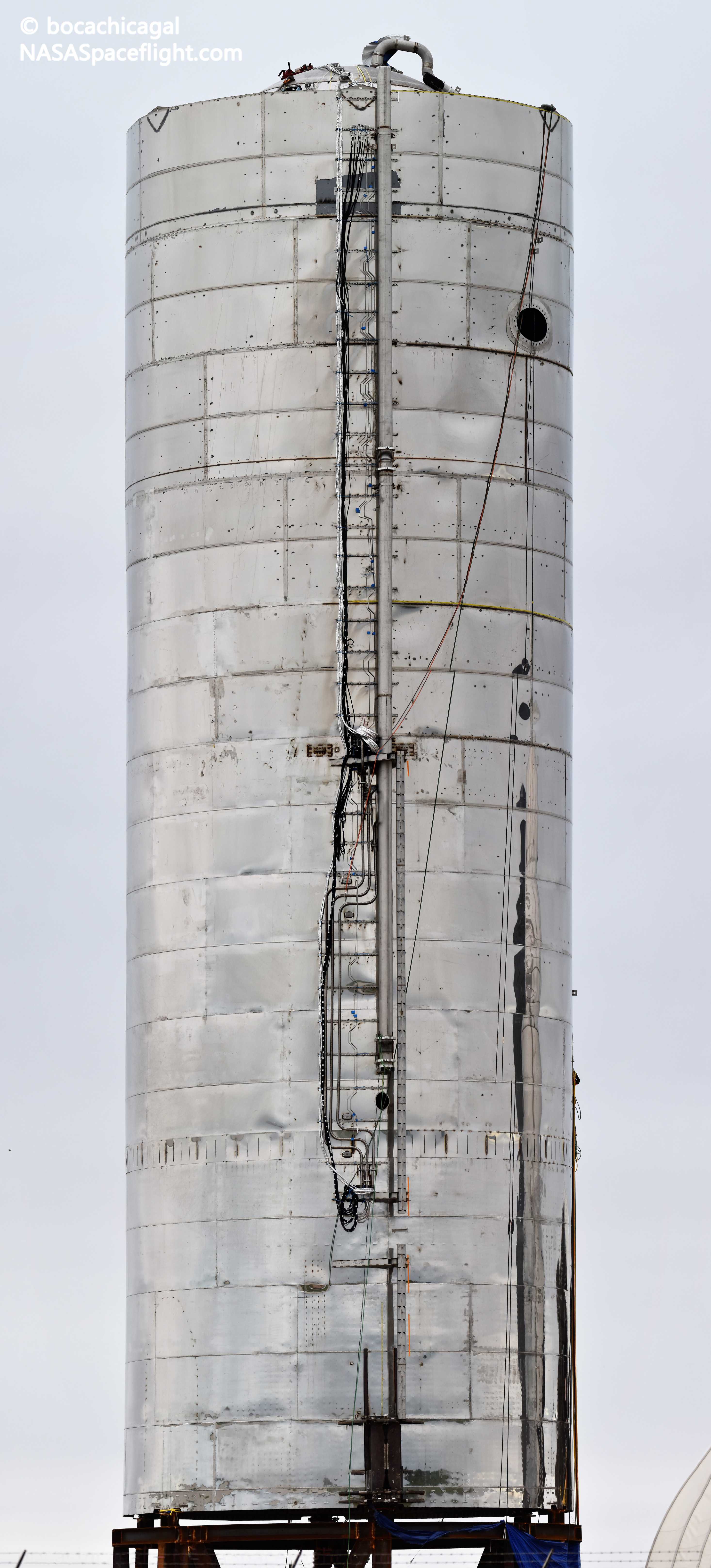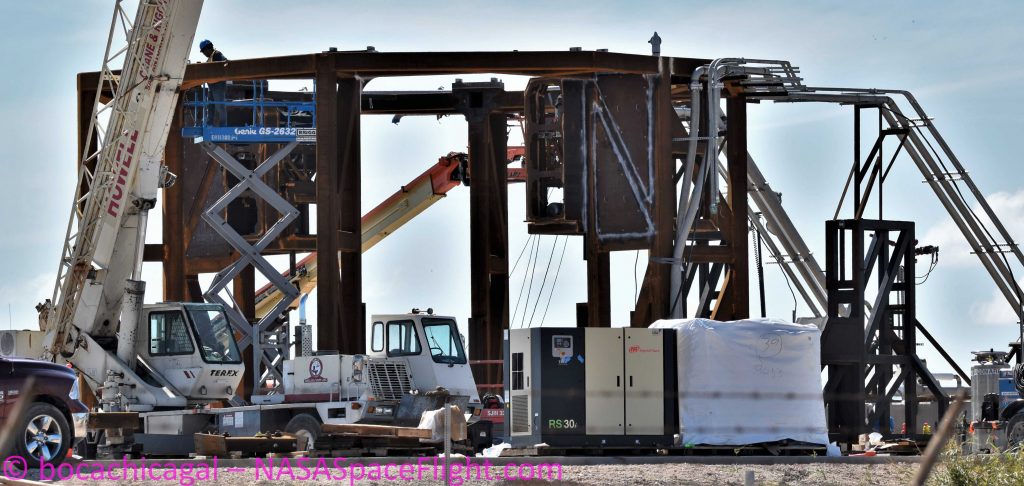 Most notably, as pictured above, the launch mount frame is certainly more or less complete, but most of the complex plumbing, wiring, and power equipment it will need to serve its function is not obviously present. There is admittedly a possibility that SpaceX will reuse the 'quick disconnect' umbilical ports used by Starhopper on Starship Mk1, but that remains to be seen.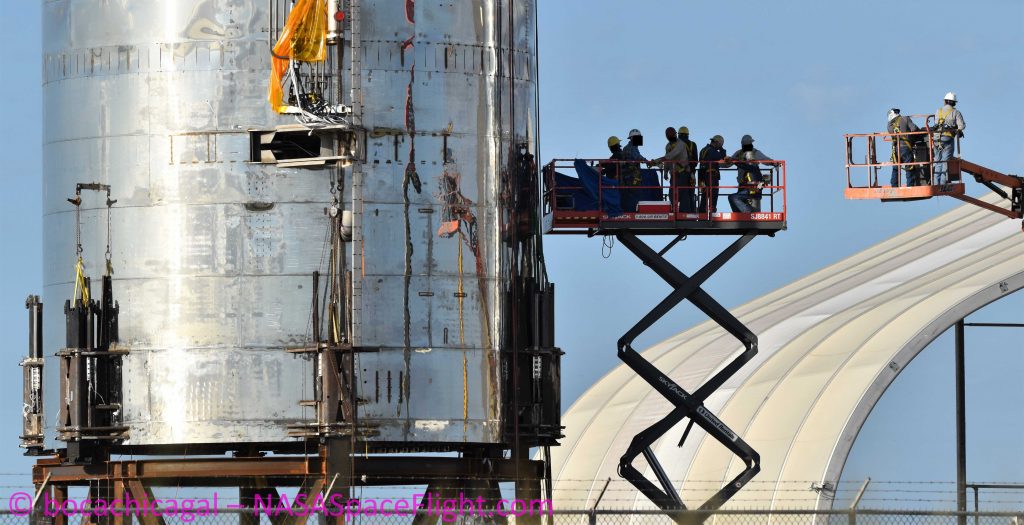 Additionally, Starship Mk1 also has some level of work left before it will be ready for its first propellant loading test, let alone flight. Aside from a large amount of wiring and avionics that still needs to be partially run, harnessed, and connected, Starship's main liquid oxygen and methane feedlines – needed to fuel the rocket – are largely complete but still unfinished.
There are at least a few obvious possible explanations for SpaceX moving the Starship Mk1 tank section to the launch pad in its partially-finished state. The easiest explanation is that SpaceX wants to perform leak and pressure tests of Starship's tanks as early as possible, even if that involves testing the rocket without its nose (the host of Mk1's batteries, power controllers, COPVs, pressurization tanks, and more). It's not clear that Starship Mk1 is – at present – capable of performing a wet dress rehearsal (WDR), a common aerospace test where a rocket is fully fueled and counts down to launch without actually igniting.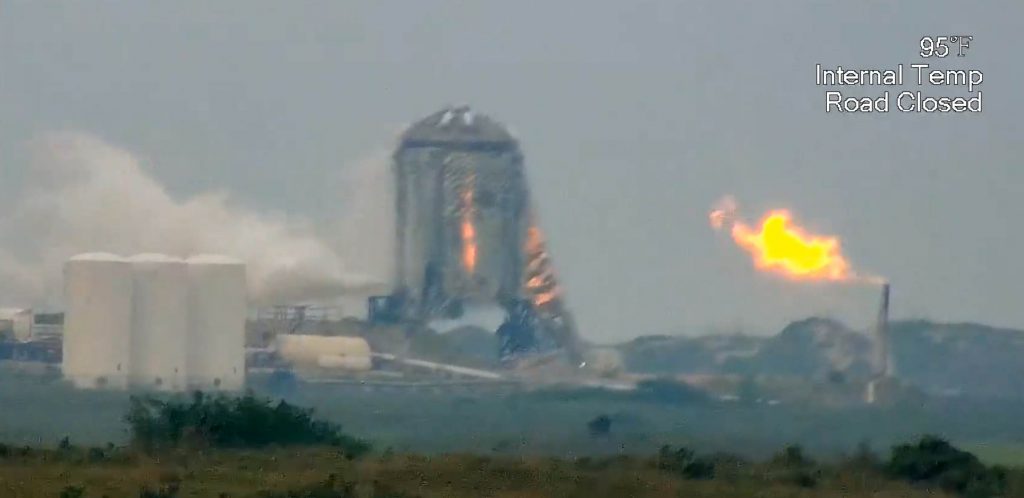 Instead, SpaceX could potentially perform a pressure (or at least leak) test with a neutral gas (or perhaps liquid nitrogen) just to verify that Starship Mk1 is structurally sound before kicking off cryogenic propellant loading. Additionally, it's possible that SpaceX could get around Mk1's incomplete propellant feed lines by attaching pad umbilicals directly to the ends of the incomplete feed lines.
At the same time, it's possible that SpaceX has decided to finish assembling Starship at the launch pad itself, hinted at when a local photographer captured a number of Mk1's control surfaces and aero covers being moved around shortly after Starship was moved to the pad. Time will tell. For the time being, SpaceX has no more road closures scheduled (meaning no nose section transport) until November 7th and 8th, followed by another on the 12th.
Stay tuned to find out what transpires!
Check out Teslarati's newsletters for prompt updates, on-the-ground perspectives, and unique glimpses of SpaceX's rocket launch and recovery processes.
SpaceX's Starship Mk1 prototype heads to the launch pad – but why?